With thousands of happy clients, there's something for everyone at
Venture.
Our premium and award-winning homes are built on the foundations of good design. All of our plans are modern, innovative, carefully considered, and make great use of space.
And with the flexibility to make any changes needed, your new house will always feel like home.
Whether you're a first-home buyer breaking into the market, or a recent retiree keen to downsize, our process makes things easy, stress-free, and affordable.
So you can build the home you want, with enough left over for the things you love.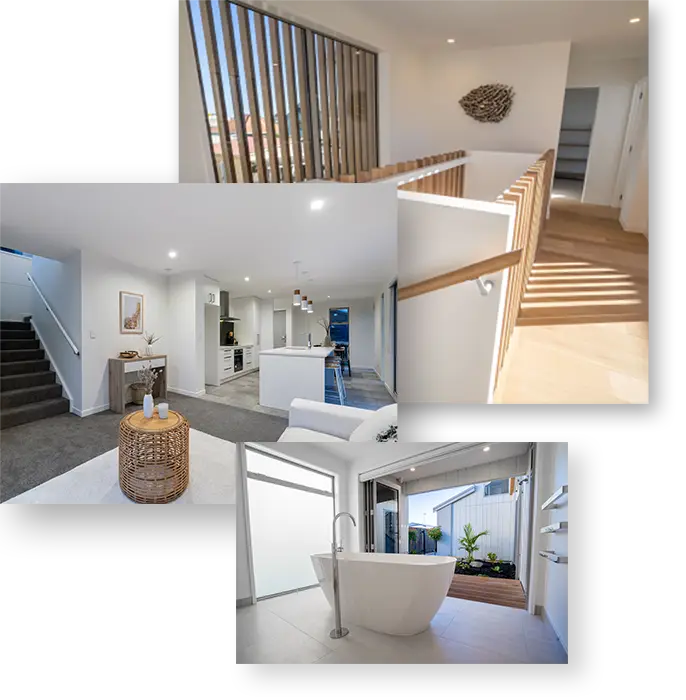 We are so happy with our amazing new home. From start to finish Venture were great to deal with and communicated every step of the process. The quality of finish and the products included were exceptional. I can't thank the team enough and would highly recommend them.

We absolutely LOVE our new home and can't thank Venture enough, it is everything we had hoped for. As first time home-owners we weren't sure what to expect but the build process was so simple and stress-free. We recommend Venture Developments to anyone looking to build.

What an amazing company to deal with, everything was explained upfront and our project manager was excellent to deal with. We have worked with Venture on three house building projects and recommended them to friends who in turn have also had the pleasure of building with Venture. It's great to work with a building company who treats you like a person and not just a building number.

We have just built our first home with Venture Developments and cannot speak highly enough of the company. Our completed home is everything we dreamt of and more, top quality, great finish and all within our budget!

We are very happy with the entire process from sales through to completion. Venture are honest and straight up people. Highly recommended. Special thanks to Willy during the sales process and to Daniel during the build. Great work guys!

Was an exciting process watching the house evolving, stoked with high level finish, loving our new home. Daniel kept on top of every little detail along the way and went over and above many times throughout the build. Thanks Venture!

Would recommend Venture to anyone looking for a quality and affordable home. The finishing was exceptional, and we love our new home in Papamoa! 5-star service.

We have been in our new venture home for nearly 2 months and we couldn't be happier. Right from the get-go we had faith in our project manager Casey as he kept us informed from title, dig out, pad pouring, frames right through to move in date. It seemed like he was always just as excited about our home as we were, and I cannot thank him enough for such a stress-free process. We will definitely be building with Venture again.

We are celebrating at the house today. Thanks so much for your excellent communication throughout the build and flexibility to make changes and fix the wee problems that occurred. We loved your upbeat personalities and appreciate all the work you did behind the scenes. It took the stress away from Us.

We feel so good moving in to the new house! Thank you so much for your help along the journey. Your communication and problem solving were excellent. It was our great pleasure working with you.

The quality of the workmanship of the entire team was excellent and any follow ups required were attended to efficiently. I have previously, and would again, recommend Venture Developments to build your new home.

Recently built with Venture Developments. Super impressed with the whole operation.
Friendly, professional and reliable.

Just extending my heartfelt appreciation to your team for a project well done! It was a delight working with all of you from start to finish. Everything was flawless!